Air-conditioning service unit WAC 2200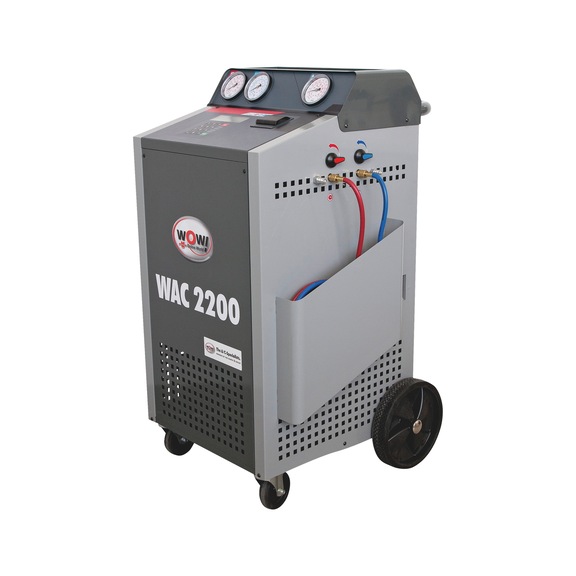 For detailed information, other images and documents, please select individual articles from the following table.
Air-conditioning service unit WAC 2200
A true all-rounder! The WAC 2200 combines robustness with precision and ease of use and copes brilliantly with the challenges posed by air-conditioning servicing in cars, vans and trucks
Exclusively for trade customers
Register now and access more than 125,000 products
Call customer service: 023 885171
Exclusively for trade customers
Register now and access more than 125,000 products
Call customer service: 023 885171
Prices for customers after login
This fully automatic device masters the entire servicing process with utmost precision, from refrigerant extraction and oil recycling to leak detector management.
Precise
Automatic detection of the connected hose length and adjustment of the refrigerant pre-filling for service hoses up to 6 metres long


With refrigerant recovery of at least 98 %, the device exceeds the SAE standard 2788


Clearly visible manometer for the internal refrigerant bottle pressure


Pre-installed default database with the vehicle fill levels


Refrigerant bottle with heating for use in all temperature conditions


Integrated rinsing function for eliminating contamination of the air-conditioning unit (accessories required)


Patented distributor block is the heart of the device and reduces the refrigerant circuit for an exact filling and suction result
Robust
Robust metal housing for comprehensive protection in tough daily workshop applications


Documentation of refrigerant consumption via a refrigerant management system


Database updating via serial interface on the device


Simple software updating possible via USB connection


22 kg refrigerant bottle for long-term use


24-month warranty*


Commissioning using an activation code for accurate recording of the commencement of the warranty


Specific, secure and environmentally friendly transportation packaging for protection of the device


Can be used up to an outside temperature of 45°C
User-friendly
Fully automatic air-conditioning service unit for R134a


With built-in thermal printer for documentation of the work steps performed


Printable initial diagnostics for the air-conditioning unit with tips for further measures e.g. when the refrigerant level is too low


Menu item for temperature and pressure dependence for discharging non-condensing gases from the refrigerant bottle


Allows you to create your own vehicle database


All servicing performed on the air-conditioning unit can be read out and printed using a PC


Automatic maintenance display for material preservation
Scope of delivery
Air-conditioning service unit WAC 2200


Service hoses with quick-action coupling, length 3 m


3 oil containers


Cover hood


Operating instructions in 7 languages


Quick-start guide
Notice
The air-conditioning service unit should be serviced after 80 kg of refrigerant has been processed or after 1 year.
Application area
Car/van/truck
Select RAL-colour code
!! NOTE: On-screen visualisation of the colour differs from real colour shade!!