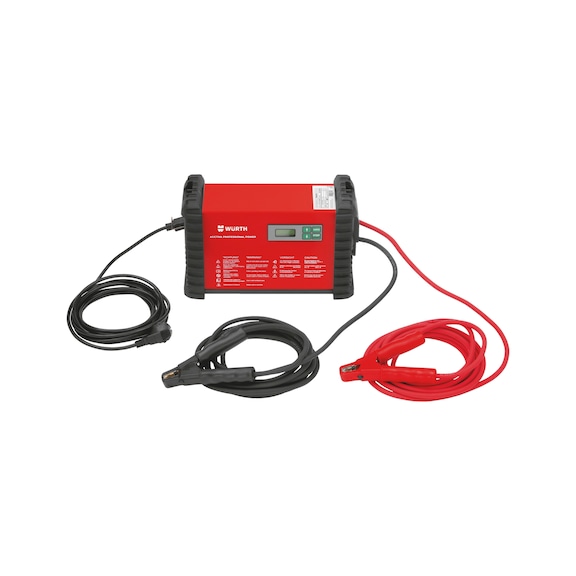 For detailed information, other images and documents, please select individual articles from the following table.
Very powerful battery charger with Active Inverter Technology. Professional Power 12 V - 70 A
Exclusively for trade customers
Register now and access more than 125,000 products
Call customer service: 023 885171
Exclusively for trade customers
Register now and access more than 125,000 products
Call customer service: 023 885171
Prices for customers after login
High-performance battery quick charger with active inverter technology
Suitable for use in workshops for passenger cars, trucks, buses, motorcycles, emergency vehicles, construction vehicles and agricultural vehicles. Suitable for all common battery types (conventional lead-acid, lead-calcium/silver fleece batteries (AGM, MF) as well as maintenance-free lead-gel batteries) and there is no need to disconnect the battery from the vehicle power supply.
LCD
Simple user guidance display and maximum operating safety. All functions and charging data can be easily configured on and read off the display with full clarity.
Robust metal housing with rubber edge protection
Very stable and protected against paint damage.
Power supply mode
Guarantees an external power supply without support from the battery.
Diagnostics and software updates
During diagnostics and software updates, the buffer mode supplies the parallel consumers with energy. The battery charger delivers a current of up to 70 A for this purpose.
USB connection
For updating the battery charger software, enabling continuous and future-proof use.
Safeguards:
Electronic reverse polarity protection


Thermal overload protection


Safety cut-out


Electronic safety


Short-circuit protection
Notice
Recommended charging technology and used by well-known automotive manufacturers: Porsche, Mercedes-Benz (cars), Hyundai, Opel/GM, Renault (cars), Jaguar, Land Rover
Application area
Diagnostics and flashing
Parallel consumers are supplied with energy during diagnostics and when flashing control units with high power requirements. The charger provides a current of 70 A for maximum safety.
Charging
The charger initiates the charging process automatically at a battery voltage of 2 V. The Plug & Charge feature enables fully automatic charging of the vehicle battery and buffering of parallel consumers during restricted timeframes for service work.
Rapid charging
High-performance recharging of the vehicle battery during restricted timeframes for service work.
I-check
(Current input check) An automatic current input check is carried out at ten-minute intervals on discharged starter batteries in order to determine whether the battery is defective or still functional.
Start support
Thanks to its high output, the charger can restore the starting capacity of a discharged battery in just a few minutes.
External power supply
Without battery, e.g. when changing the battery, in showrooms or during trade fairs.
Refresh mode
This mode regenerates deep-discharged batteries (desulphation).
Replacing
Data back-up function: If the vehicle battery is removed or replaced, saved data (e.g. radio, clock settings etc.) is retained. The charger temporarily acts as a power supply in place of the battery.
Select RAL-colour code
!! NOTE: On-screen visualisation of the colour differs from real colour shade!!